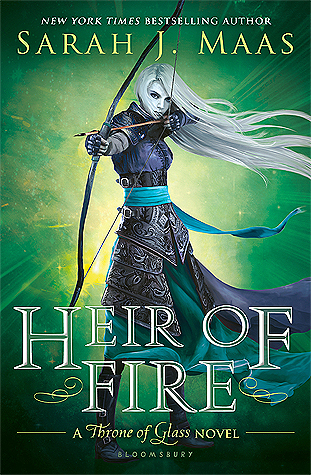 Heir of Fire by Sarah J. Maas
Series: Throne of Glass 3
Published: September 2, 2014
Source: Hardcover/ Bought myself
Rating: 5 Stars
Celaena has survived deadly contests and shattering heartbreak―but at an unspeakable cost. Now, she must travel to a new land to confront her darkest truth . . . a truth about her heritage that could change her life―and her future―forever. Meanwhile, brutal and monstrous forces are gathering on the horizon, intent on enslaving her world. Will Celaena find the strength to not only fight her inner demons, but to take on the evil that is about to be unleashed?

The bestselling series that has captured readers all over the world reaches new heights in this sequel to the New York Times best-selling Crown of Midnight. Packed with heart-pounding action, fierce new characters, and swoon-worthy romance, this third book will enthrall readers from start to finish.
About The Author
Quotes
"She was the heir of ash and fire, and she would bow to no one."
"And then I am going to rattle the stars."
"You didn't need a weapon at all when you were born one."
"You cannot pick and choose what parts of her to love."
"I claim you, Rowan Whitethorn. I don't care what you say and how much you protest. I claim you as my friend."
"Their hands clasped between them, he whispered into her ear, "I claim you, too, Aelin Galathynius."
"I claim you, Aelin. To whatever and."
~~~~~~~~~~~~~~~~~~~~~~~~~~~~~~~~~~~~~~~~
In this book Celeana becomes Aelin and it was great to read about her growing experience. And we also met rowan which I have heard so much about. Much more happened in this book, I mean it was huge, but those were the main points in my opinion. Sarah's writing and plot is really good as usual, so captivating and original. This was my favorite book in the series and I have to say that I'm totally obsessed with this series and I get what the hype is about Sarah who is amazing as a person and an incredible author.
Celeana was sent to Wendlyn where the Fae live on the orders of the Kind of Adarlan. She needs some information from her aunt Maeve, but in order for her to get to her she has to use her magic. So throughout the book Celeana is trying to master her magic by being trained by Prince Rowan, who was sent by her aunt. And Rowan does not want to be there! He hates that he has to train her at all. Celeana and Rowan treat each other sooo bad, the things that he would say to her were so mean. He had to get a rise out of her to see what would make her magic come out.
So as she's going through training, we get to see what Dorian and Chaol are up to back at the Glass Palace. And we are also introduced to a few new characters like Manon who is a witch, she's not even supposed to have a heart. So she shouldn't have an compassion or sympathy for anyone. But I felt like I didn't get to see her in action to see what she was really like instead of just saying how she was. Like in Throne of Glass, Celeana was this badass assassin but it wasn't really shown.
The King, I hate him, he's so evil. In the end of this book is where we learn exactly how much of a monster he really is. To what length he's willing to go to keep his kingdom. He doesn't care about anyone but himself and has no problem sacrificing anyone who gets in his way. He's a true villain through and through. He's written very well as a cunning bastard and we are all meant to seriously dislike him.
I really love this series and this book was the start of my absolute admiration for the stories that Sarah has written. I can't to find out what more awesomeness is in store for me in the next books. I'm already reading Queen of Shadows and it's immediately amazing, there's no waiting for the action.

If you all have read this series let's discuss I'd love to know what you think!

~~~~~~~~~~~~~~~~~~~~~~~~~


I thought the ending was beautiful how Rowan was completely devoted to Aelin, I think he redeemed himself from the beginning. I mean these too hated each other for just being themselves. Rowan didn't want to be training some future Queen or who knows what and Aelin didn't want anyone training her and getting in the way of her plans. I mean it was brutal, the things he would say to her were so messed up like you should have just died cause you're worthless. Omg just so mean.


When Rowan & Aelin joined powers was epic! How he came back for her and trusted that they were meant to join, it was just so special and like nothing I've read before. She could set the world on fire. Yes! It's about time Aelin, show me what you've got! I wanted to see her powers in action and boy did I. When she showed up at her aunt's throne and just lit the whole island on fire, that was amazing. You show her Aelin!

I hated that Rowan cant go with her back to Adarlan with her! I want more of him! Is her going to be in Queen of Shadows at all? What the hell man? Lol. It just got good between them and then they have to be apart, that sucks.