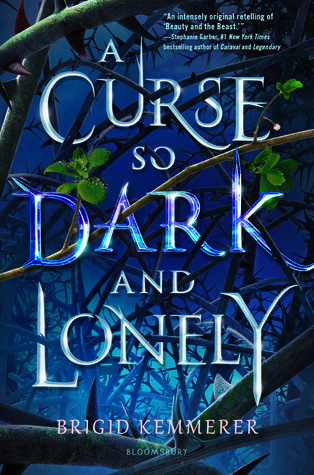 Title: A Curse so Dark and Lonely
Author: Brigid Kemmerer
Series: A Curse so Dark and Lonely #1
Genre: Fantasy, Young Adult, Romance, Retelling
Published: January 29, 2019
Source: Hardcover
My Rating: 5/5 Stars
Fall in love, break the curse.
Cursed by a powerful enchantress to repeat the autumn of his eighteenth year, Prince Rhen, the heir of Emberfall, thought he could be saved easily if a girl fell for him. But that was before he turned into a vicious beast hell-bent on destruction. Before he destroyed his castle, his family, and every last shred of hope.
Nothing has ever been easy for Harper. With her father long gone, her mother dying, and her brother constantly underestimating her because of her cerebral palsy, Harper learned to be tough enough to survive. When she tries to save a stranger on the streets of Washington, DC, she's pulled into a magical world.
Break the curse, save the kingdom.
Harper doesn't know where she is or what to believe. A prince? A curse? A monster? As she spends time with Rhen in this enchanted land, she begins to understand what's at stake. And as Rhen realizes Harper is not just another girl to charm, his hope comes flooding back. But powerful forces are standing against Emberfall . . . and it will take more than a broken curse to save Harper, Rhen, and his people from utter ruin.
Brigid Kemmerer is the author of dark, contemporary Young Adult romances like MORE THAN WE CAN TELL and LETTERS TO THE LOST (Bloomsbury), as well as paranormal YA novels like THE ELEMENTAL SERIES and THICKER THAN WATER (Kensington). Her next book will be her first foray into YA Fantasy, with A CURSE SO DARK AND LONELY, available January 2019 wherever books are sold. Brigid lives in the Baltimore area with her husband and four sons.
"I am always surprised to discover that when the world seems darkest, there exists the greatest opportunity for light."
"Rhen," she calls after me.
I pause in the doorway and face her.
"I'm not going to fall in love with you," she says.
Her words are not a surprise. I sigh.
"You won't be the first."
"We all make mistakes. And she's not innocent! She sought you out because of who you are." Her jaw is clenched. "I hope she does come here. I hope she comes to this room. Because I don't care what I have to do. I'm going to end her."
"I do not understand how she can fill me with such hope and fear simultaneously. I pull her hand to my chest and lean in to her, until we share breath. My lips brush across hers.
It is barely a kiss, but she is somehow closer to me, her body a pool of warmth against mine.
I want so desperately to turn it into more, to see where this blossoming attraction will lead."
I just want to say that this book got 5/5 stars from me just because of the last few chapters because I read something I haven't read before and it was epically awesome. The rest of the book was 5 stars as well but those chapters took it off the charts for me. This was a fantastic read for me with a brave heroine, a beast I couldn't help but love instantly, and a royal guard that was perfectly loyal. Everything about this book was magical it seemed like it was well thought out and my favorite Beauty and the Beast retelling. It was an original and refreshing tale that was it's own story as well as a retelling. I was enchanted by the story that I could not put it down.
As Harper is pulled into a magical palace all she wants to do is go back home to tend to her dying mother and make sure that her brother is okay. She didn't just want to be in the castle all the time, she did want to explore and most importantly run away. She developed a lot, in the beginning she was headstrong and set in her ways but when she finds out more about Rhen's story and his kingdom she wants to help. Because of all she learns about this new land she finds herself helping and caring for the people and making friends. She wanted to feed them and give them shelter. I loved her! She didn't let her cerebral palsy get her down and damn whoever thought less of her because of it, she can do everything others can and sometimes better.
One of the things I loved about this book was that I found myself saying the same things Harper says things that would make me laugh out loud.

'Maybe the cold has frozen my brain cells. "I'm not- did you say wedding?"'


"Jake said you two had to 'do something real quick' and then we'd be going home. Hilarious. Then he shows up with three dozen people with critical injuries."

Rhen, I fell for him right away, his story really got to me early on and as I learned all about him I couldn't help but to love him more. He was arrogant and self absorbed in the beginning but he had a lot of character development. He sacrificed everything till the very end, I just wanted someone to help him because he was so tormented. When he met Harper as she makes her entrance with a bang, she's not like any other girl he's met. She is unyielding to his charms and determined to get her way but he has to keep trying to break the curse as she is his only hope.

"I've tried everything I can think of to break this curse. I would undo it if I could. I promise you."
"I don't know what I can do to her, but I won't stand by and watch it. I can't."
"Never offer blindly, my lady. Not for your family. Not even for yourself. Certainly not for me."
Grey was such a wonderful character, so loyal and dedicated. He followed every orders without a second thought. A great guard for Rhen and a friend to Harper. And his weaponry expertise at it's finest.

'He turns my wrist and puts the hilt against the center of my chest, the point level with his own. "See? Now you have some defense when an opponent grabs you. If you were lucky, you could pull me right into your blade." Grey
"Can I do that right now?" Harper
"Perhaps another time." Grey



Lilith the villain, I hate her so much, she has caused so much suffering. She is a scorned woman who wanted herself a royal and when things didn't go her way she showed her true colors, and she's the worst.
This book is filled with action from the beginning, un-put-down-able. It has everything you want in retellings and then some. I loved that it was told with dual perspectives.
The twist in the end I kind of knew it would happen and it made me excited for the next book. It's going to be so good. I am Brigid's new fan and I'll read anything she writes!