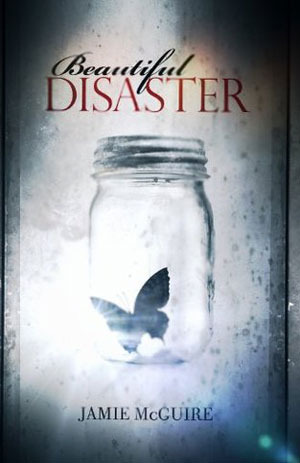 Title: Beautiful Disaster
By: Jamie McGuire
Genre: Contemporary Romance
Kindle e-Book
(5 STARS)
The new Abby Abernathy is a good girl. She doesn't drink or swear, and she has the appropriate number of cardigans in her wardrobe. Abby believes she has enough distance from the darkness of her past, but when she arrives at college with her best friend, her path to a new beginning is quickly challenged by Eastern University's Walking One-Night Stand.

Travis Maddox, lean, cut, and covered in tattoos, is exactly what Abby needs—and wants—to avoid. He spends his nights winning money in a floating fight ring, and his days as the ultimate college campus charmer. Intrigued by Abby's resistance to his appeal, Travis tricks her into his daily life with a simple bet. If he loses, he must remain abstinent for a month. If Abby loses, she must live in Travis's apartment for the same amount of time. Either way, Travis has no idea that he has met his match.
Jamie McGuire was born in Tulsa, Oklahoma. She attended Northern Oklahoma College, the University of Central Oklahoma, and Autry Technology Center where she graduated with a degree in Radiography.
Jamie paved the way for the New Adult genre with the international bestseller Beautiful Disaster. Her follow-up novel, Walking Disaster, debuted at #1 on the New York Times, USA Today, and Wall Street Journal bestseller lists in all four categories. Beautiful Oblivion, book one of the Maddox Brothers series, also topped the New York Times bestseller list, debuting at #1. In 2015, books two and three of the Maddox Brothers series, Beautiful Redemption and Beautiful Sacrifice, respectively, also topped the New York Times, as well as a Beautiful series novella, Something Beautiful. In 2016, Beautiful Burn made an appearance on the New York Times and USA Today, and was also named iBooks' Romance Book of the Year. The same year, A Beautiful Funeral also topped the New York Times bestseller list.
Quotes:
"I knew the second I met you
that there was something about you I needed. Turns out it
wasn't something about you at all. It was just you." - Travis
"You can't tell me
what to do anymore, Travis! I don't belong to you!"
In the second it took him to turn and face me, his
expression had contorted into anger. He stomped toward
me, planting his hands on the bed and leaning into my face.
"WELL I BELONG TO YOU!" The veins in his neck
bulged as he shouted, and I met his glare, refusing to even
flinch. He looked at my lips, panting. "I belong to you."
"You know why I want you? I didn't know I was lost until you found me. I didn't know what alone was until the first night I spent without you in my bed. You're the one thing I've got right. You're what I've been waiting for, Pigeon." - Travis
"It's dangerous to need someone that much. You're trying to save him and he's hoping you can. You two are a disaster."
"It doesn't matter what or why it is. When it's good, Kara... it's beautiful." - Abbi
"He continued to stare out the window. "I meant what I said before. You need to walk away, Pidge. God knows I can't walk away from you." - Travis
"It wasn't just me, and it wasn't just him, it was what we were together that was the exception." - Abbi
"He was afraid of nothing. Until he'd met me." - Abbi
--------------------------------------------------------------------------------------------
I love this book so much. It is the book that I have re-read the most at about 10 times. It takes me about a day to finish and I am totally addicted to it. I am obsessed and here's why.
In the beginning Abbi was very focused on leaving her past behind, making new friends at a new school, and passing her classes. Travis is a bad boy in every sense of the word, the tattoos, he fights in the underground cirle and is a womanizer. When Abbi and Travis became friends they decided to do a bet, if Abbi won the Travis would have to be celibate for a month, but if Travis won then Abbi would have to stay at his apartment for a month. So you can guess what happened there. Since Abbi is Travis' first friend that is a girl no one knows what to make of their friendship at the beginning.
I really liked the way their friendship grew, how they opened up to each other as they spent more time together. They changed for each other and became better for it. Their relationship on the other hand was very different, they were moody and scared to lose each other. When they're together and happy everything is good but when they're not together and they fight, the whole world comes down with them. I also loved their back stories and where they came from, their parents' stories, and who they were before they met each other.
My favorite character is Travis and that's why I keep coming back to read this book. He's beautiful and gentle, he cares so much about Abbi. I feel like this is an epic love story for me because of the special way Travis feels about Abbi. To love someone with such intensity and devotion is amazing. I like books that make me feel a certain way and this one makes me feel all mushy inside lol. I absolutely love the way he shows his love for her.
I didn't like Abbi at times, I thought she was a bit selfish; she had a goal and damn anything or anyone that would get in her way. So because of that I didn't agree with some of her decisions, and poor Travis had to pay for it.
Also in the end when something happened and suddenly they're off on an adventure, that was surprising.
I can't say enough about how much I love this book and how amazing it is. I think everyone should read it! I hope this review gives this book justice because when I love a book as much as I love this one it takes me forever to review. Just know that it's amazing, go read it and read the rest of the series.
------------------------------------------SPOILER SECTION!----------------------------------------------
So now you know how much I love this book, so here's what I didn't like about it.
I didn't get enough of the romance that I wanted between Travis and Abbi, there was something always getting in the way. There was more time of them being apart then of them being together. I loved their relationship so much that I wanted more of it!
I also didn't like that at Thanksgiving dinner Travis was saying how he would still want her as a friend if she won't have him any other way. OMG! He was telling her that he did wanna be with her but if she didn't wanna be with him then he'll take her friendship if that's all he could get. He needed her in his life so bad he would say and do anything just to keep her around. Poor Travis what he went through because of that little misunderstanding. I just wanted to shake Abbi and make her open her eyes and tell her that there's this super awesome guy that is devoted to you and worships the ground you walk on still wants you after you've left him so many times. I think there's absolutely nothing wrong with needing someone like you need to breathe, do you? Lol. To me it's not only about the little things, it's about the whole package and Travis certainly is.
I also thought the ending was kind of abrupt; the fire, and then "let's get married!" that surprised me. But I'm glad they got married, I didn't think that it would happen so soon and that Abbi was the one to propose. I wasn't surprised that Travis already had the ring, I think he bought it when he found out he loved her, which was probably when she moved in or before that. All I know is that he fell fast and hard and forever.