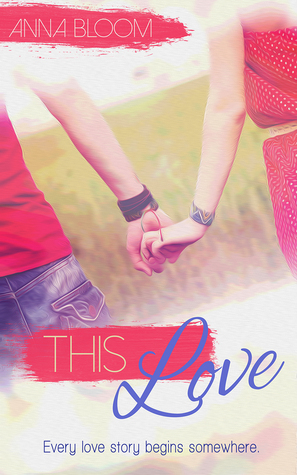 This Love by Anna Bloom
Published: June 2, 2015
Amber's always planned to leave her overbearing mother and their stifling small town behind as soon as she graduates. That is until her car breaks down outside Bale and Son's mechanics and she meets Freddy Bale. A boy who'd rather live in the moment than make a five-year-plan.

Ignoring her friends' warnings, Amber puts all dreams for her perfect future on hold, and dives into the romance heart first. On their last day of school, however, Freddy decides to call off their relationship, and Amber does the only thing she can think of: Run away and never look back. Just like she'd always planned.

Ten years pass before Amber sets foot in town again, only returning to look after her ailing mother. While Freddy wants to make amends, Amber is confronted with her own wrong choices from ten years ago. Choices that could change the lives of everyone she's ever loved.

When first love is given a second chance and the secrets of the past come hurtling into the present, will Amber and Freddy be able to lay their mistakes to rest and make this love the strongest one of all?
The hotel does look beautiful, I must admit, Woodford Green High does do a good leaving party. It
'
s all blue and silver, with fairy lights shining like stars. No one is on the dance floor. Well, Miss. Roberts, the geography teacher is, but then she is totally nuts.
"
I can
'
t believe this is it,
"
Danni gushes as we look about with awed expressions. I feel oddly emotional, almost like I
'
ve reached the end of the line I never knew I was trying to cross.
"
Well I could be back for retakes next year,
"
I shout over the music.
Danni folds over with laughter,
"
Fuck, that would be funny.
"
I mock frown.
"
Dude, it wouldn
'
t be that bloody funny.
"
Danni isn
'
t laughing anymore, she
'
s looking over my shoulder.
"
I think your date
'
s arrived.
"
She tries to keep her tone sharp and jibing but she has the most enormous cheesy grin on her face. I spin and look in the same direction. Freddy is walking towards me, just one stick in hand.
My heart totally stops and then my knees start to shake, my mouth falls open and my entire body starts to pulse with unexpected excitement.
I move towards him, weaving my way through the crowd, all of who are watching. He looks beautiful, black tux, cut to fit perfectly, hair swept back and looking so sexy you
'
d never know he
'
s spent the last six months learning to walk again.
"
You look beautiful,
"
I gush when I
'
ve finally fought through the crowd to get to him.
"
That
'
s my line.
"
He grins, his white teeth shining in the dark. One arm snakes out and winds around my waist, pulling me in tight. He doesn
'
t ask, he just slowly steps us towards the dance floor. I can feel the slight jilt he now has in his left knee against mine but he doesn
'
t use his stick or struggle at all.
On the floor, he grabs my hand and spins me away, pulling me back in tight.
'
What are you doing here, Freddy? You
'
re going to hurt yourself.
"
His arms tighten around me until there is no space between us. Leaning in, he speaks into my ear.
"
I made myself a promise in January I would be here with you tonight. This is something everyone should get to do.
"
A massive lump forms in my throat and tears threaten to ruin the makeup Danni spent hours perfecting.
"
Thank you.
"
"
You
'
re welcome.
"
He gives me a grin but his eyes don
'
t dance.
"
Are you home now, Freddy?
"
His arms tighten a notch.
"
Yes. I
'
ve been keeping it secret.
"
His words trail off and I
'
m left with the word secret echoing in my ears.
"
I can
'
t believe you are going to be home. Just think, Freddy, tonight we can sleep in your bed, in your home, together.
"
He doesn
'
t respond but his lips brush along my earlobe causing a flash of heat.
"
What is it?
"
I can feel there is something wrong. He
'
s here, he
'
s out of hospital, he
'
s mine, but deep down it feels like there is a hesitation coming. A flaw in the plan.
A beat of emptiness pulses in the air between us. A feeling of cold fear settles in my stomach in response.
"
Can I talk to you, Amber?
"
His words set off an alarm bell. He just called me Amber, not Amber French
Anna Bloom is a contemporary romance writer with the sole ambition of writing about life as it happens. Dedicated to real characters, real problems and real romance Anna writes tales to stir your heart and head. Combining a busy schedule of looking after two young children, working in a local school and writing swoon worthy romance for Mature Teen and Adult readers, she also spends a lot of time imagining kissing hot guys and talking to the voices in her head- all in the name of her art.
a Rafflecopter giveaway