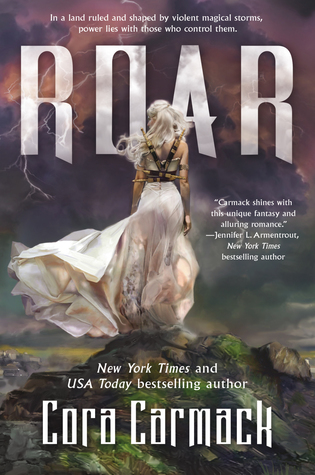 Genre: YA Fantasy Romance
In a land ruled and shaped by violent magical storms, power lies with those who control them.
Aurora Pavan comes from one of the oldest Stormling families in existence. Long ago, the ungifted pledged fealty and service to her family in exchange for safe haven, and a kingdom was carved out from the wildlands and sustained by magic capable of repelling the world's deadliest foes. As the sole heir of Pavan, Aurora's been groomed to be the perfect queen. She's intelligent and brave and honorable. But she's yet to show any trace of the magic she'll need to protect her people.
To keep her secret and save her crown, Aurora's mother arranges for her to marry a dark and brooding Stormling prince from another kingdom. At first, the prince seems like the perfect solution to all her problems. He'll guarantee her spot as the next queen and be the champion her people need to remain safe. But the more secrets Aurora uncovers about him, the more a future with him frightens her. When she dons a disguise and sneaks out of the palace one night to spy on him, she stumbles upon a black market dealing in the very thing she lacks—storm magic. And the people selling it? They're not Stormlings. They're storm hunters.
Legend says that her ancestors first gained their magic by facing a storm and stealing part of its essence. And when a handsome young storm hunter reveals he was born without magic, but possesses it now, Aurora realizes there's a third option for her future besides ruin or marriage.
She might not have magic now, but she can steal it if she's brave enough.
Challenge a tempest. Survive it. And you become its master.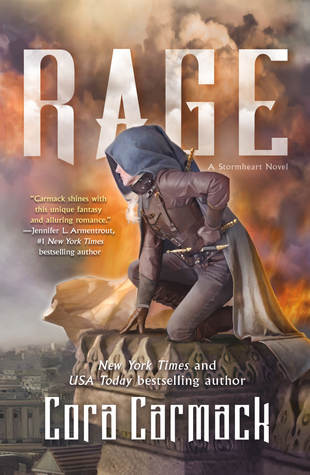 About The Author
Cora Carmack is a New York Times and USA Today bestselling author of New Adult Romance and YA fantasy. Her books have been translated into more than a dozen languages around the world. Cora lives in Austin, TX, and on any given day you might find her typing away at her computer, flying to various cities around the world, or just watching Netflix with her kitty Katniss and her dog Sherlock. But she can always be found on Twitter, Facebook, Instagram, Pinterest, and her website.
When thinking about this book two things come to mind, it reminds me of Cassi Claire's books full of action and Six of Crows and the awesome group of characters. And I absolutely love that it reminds me of other books that I've enjoyed. The magic system was different and unique from from anything I've read before.
Aurora, Rora, Roar- She seems to be a sheltered royal, she had never been out of her kingdom and actually had no idea what was going outside of her fortress. As she finds out secrets that are revealed her world turns upside down and she makes decisions that affect her whole kingdom. Aurora thinks she's doing the best she can and as she prepares herself to be queen she learns more about herself. On a quest keep her crown she learns she's not as powerless as she thought. And honestly she's the only character I remember.
Charming Storming Prince who has everything is what he seems to me like.
I think this story a fantastical element, cool magic system, an original premise, and political intrigue.
I really enjoyed my time reading it and I can't wait to read the next one that seems to be another magical adventure and next book is set to be even better.
"Sometimes she was Aurora. Confident. Clever. Cultured.
Sometimes she was Rora. Afraid. Alone. Ashamed.
And more and more, she was Roar -- bold, brash, and increasingly baffled by the situation in which she found herself. And sometimes she was none of them, lost and adrift somewhere in between, like the wildlands between Stormling cities."
"If she were a storm, she could destroy him, and he would never lift a finger to protect himself."
"And I am here with you. If you have questions, ask them. If you have fears, shed them. If you have doubts, give them to me and I will crush them beneath my heel. If you need help, I will provide it. Even if you only need someone to yell at, I can be that too. And when the time comes that you need someone to trust, I will be that person. I promise."
"You are lightning made flesh. Colder than falling snow. Unstoppable as the desert sands riding the wind. You are Stormling, Aurora Pavan. Believe it."