Saving Abel by Gina Whitney
Published: June 29, 2014
Genre: Erotic 18+
Source: eBook provided by the author
Abel Gunner, the lead singer of the band Lethal Abel, is what beautiful nightmares are made of. His gritty, melodic rasp threatens to rip your heart out of your chest and leave you gasping for the very breath he robbed you of. His kisses, detonating on impact, leave you ruined. Abel is also a Dom, and his appetite for seduction is legendary and intense. After a chance encounter with Gia, his need to dominate this woman increases tenfold. He wants to consume her, merge with her, and never leave her body.
Abel's emerald eyes touch the deepest part of Gia's soul in a way that terrifies her. She fears he can see her secret. Lies, guilt, and betrayal lay beneath her skin, and she's terrified of being exposed. How will Gia ever begin to explain? She doesn't believe she's worthy of him, and her greatest fear is that her carefully guarded heart will be shattered. However, she finds herself unable to deny this rogue tattooed rocker whose kisses just might ruin her.
Did you ever dream of a tatted pierced Dom rocker? This is FSOG meets rock romance--hard. Abel Gunner, is a high alpha Dom, who's got a gift for dirty talking with a penchant f
or bdsm. - Gina Whitney
"Gia, put your damn hands above your head or I will tie you to the bed."
Looking directly into my soul, he smiled wickedly, he kissed me deeply. Arrogant prick. Yeah, he knew he was the best ride in town. Fuck me.
"Babe, take your clothes off. I want to see what's mine."
"Are you going to be good, Beauty?"
"Are you serious right now? What could I possibly do? Get on with it already," she grinned. My little minx liked being tied up. Nice.
This has been one of the most intense books I've ever read, I had anxiety while reading it, in a good way. Able was seriously hot and completely alpha, no doubt about it. The only other time I remember feeling like this was while reading Slade by Victoria Ashley, where Slade our main guy was a dirty talking hot piece of stripper ass. Yep a stripper, trying to catch the one that refuses to give it up to him. Anyway, I had the same feeling while reading both of these books.
Saving Abel really stands out to me because he's so intense, you really have to be aware of what you do and say around him or else he'll blow up. It's nice to have a guy that is low-key, but Able is the kind of guy that will fight for your honor.
I like that in a character, you can also push his buttons just to see what happens, and it would be a hell of a lot of fun trying to make Abel jealous. Ha, it wouldn't take long for him to break someone's jaw, I'd feel bad for the other guy. I also like characters like him because they're hard to find. I like that he has so much emotion, which is not common these days.
"He's an
alpha,
doll. He's always broody and pissed off even when he's smiling. Nature of the beast and all that jazz."
"You. Are. Mine. You understand what that means? Let me break it the fuck down so I'm absolutely-for-fucking-sure. When you signed that agreement, you gave me your mind, body and soul. Your mind will be focused on me, always. Your body will be under, on top, or spread wide open for me- always. Your soul will be intertwined with mine, forming one physical body of unity- always."
"I would never hurt you, ever. You're more precious to me than you will ever know."
Damn, I seriously want to quote the entire book but I can't so it's hard to choose which ones to share.
I didn't like Gia too much, but that's expected because of the way that she is, you could tell from the blurb that you might not like her. You might not even be supposed to like her. She does have redeeming qualities; she wants to do better and prove herself worthy. So that's good, that's why I don't completely hate her.
I could not get enough of this book, I loved it and highly recommend it. One of the best books I've read this year and definitely a new favorite. I know I said 5 stars but it's to infinity and beyond full of stars!
I can't wait for the next one!
And here's a sneak peek at the next book.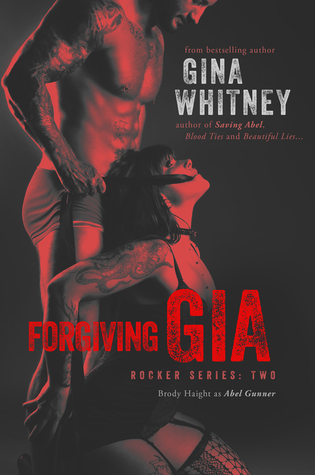 Forgiving Gia Rocker Series # 2
Expected Publication: October 20, 2014
It doesn't even have a cover yet & I don't care. I need this book like yesterday!
Abel Gunner is a rock-star with legendary skills both in and out of the bedroom. He swore he wouldn't fall for another woman after being schemed and manipulated by an ex-lover. He kept that vow until he met Gia Mastro. The Dom inside of him awoke the moment he set eyes upon the submissive beauty. His dark soul hungered for her submission and affection. The deep connection they share leaves him desperate for something he never expected – her love. Her pain brings him the pleasure he craves. Her smile calms the beast that rages within him. Gia loves Abel more than life itself, but Abel is disillusioned by love and wrecks Gia in the process. Her life hangs in the balance. His life depends on forgiving her. This couple must face many truths. Is love enough to overcome the damage that dwells within? Gia's experiences with love have been nil until meeting the infamous bad-boy rocker, Abel Gunner. Swept up in a mind-bending, Dom/submissive love affair, she's forced to make decisions that both help and hurt their relationship. They both have to face their demons before they can embrace a future together. In the end, they're faced with two choices: Fight for their love, or die with their demons.