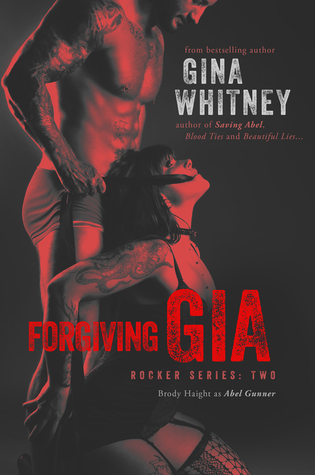 Forgiving Gia by Gina Whitney
Published: October 20, 2014
Abel Gunner is a rock-star with legendary skills both in and out of the bedroom. He swore he wouldn't fall for another woman after being schemed and manipulated by an ex-lover. He kept that vow until he met Gia Mastro. The Dom inside of him awoke the moment he set eyes upon the submissive beauty. His dark soul hungered for her submission and affection. The deep connection they share leaves him desperate for something he never expected – her love. Her pain brings him the pleasure he craves. Her smile calms the beast that rages within him. Gia loves Abel more than life itself, but Abel is disillusioned by love and wrecks Gia in the process. Her life hangs in the balance. His life depends on forgiving her. This couple must face many truths. Is love enough to overcome the damage that dwells within? Gia's experiences with love have been nil until meeting the infamous bad-boy rocker, Abel Gunner. Swept up in a mind-bending, Dom/submissive love affair, she's forced to make decisions that both help and hurt their relationship. They both have to face their demons before they can embrace a future together. In the end, they're faced with two choices: Fight for their love, or die with their demons.
Book 2 of 3...Must read in order. 18+ BDSM themed Rock Romance.
I loved this book from the beginning! Able won my heart all over again. This man is so loyal and committed to Gia that it was incredible. We also learn so much about Gia and it was heart breaking, her mother was such a witch. I hated her, she definitely learned the title.
And the steamy scenes were definitely jaw dropping. Gina has done it again, gotten me hooked to her writing, obsessed with her characters and anxiously awaiting for the next book!

After the unexpected and surprising end to Saving Able the first book, I thought this book was going to be about Gia looking for Able and begging for forgiveness, but it wasn't, it was so much better. We get to see another side of Able which is what I always like to see, a sensitive side. Don't get me wrong, the man is rough, a rock star, and has piercings that want to make you look twice, the man is intense but he's got a sensitive side. Once you peel off all the layers, there's a wonderful, beautiful man under there. And don't even get me started on his dom side, omg what a huge turn on!
And that is what I love, well rounded characters that you just love. I just didn't want the book to end. So much emotion and lots happening in this book. It was so good. It took me some time to get used to Gia and I understand her now but Able is one of my favorite characters. And this book added so much more for me, I loved him even more after reading this book.