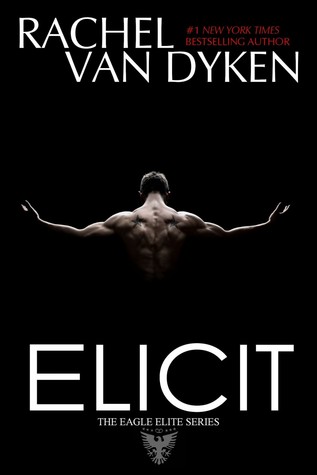 Elicit by Rachel Van Dyken
Published: August 11, 2014
Source: eARC provided for review
Cursed, numb, rejected, scorned, wicked, sinister, dark, twisted...my name is Tex Campisi and this is my legacy. I killed my father in cold blood and lost my soul right along with him.
I crave war more than peace, and I'm about to take my place in history as the youngest Capo dei Capi in the Cosa Nostra...that is until someone stops me, saves me from myself.
But the only person able to do that...is my best friends sister, Mo Abandanato, and she just ripped my heart out and asked me to hold it in my hands while she put bullets through it.
I'm cursed so I did it.
I'm numb so I held it.
I'm wicked so I liked it.
I used the pain Mo caused as a catalyst to turn into my biggest nightmare--the five families greatest enemy. It's my turn to take a stand, knowing full well I'm going to lose my mind to the madness that is the American Mafia. I've always been told Blood is thicker than life. I wish I would have listened. Because regardless of who you love? You will betray. You will kill.
Blood Always Wins.
The only way out is death...yours.
Welcome to the Dark Side of the Family.
This is one of my favorite series, everything I read from Rachel I love, I've read 3 series by her and loved them all. This is the first series I've read about the mafia and I am completely fascinated and combine that with Rachel's writing, insta-love. I love how her characters get along so well, their interactions and banter is just hilarious. Although in this book Nixon shot someone at point blank range, had no intention on killing the person, nope he just wanted to make a point lol. Nobody can forget who the boss is and that they can't mess with his family. And others threatening to shoot people in the face, so funny, I mean it wouldn't be funny if it happened though.
"Damn this family's violent." - Mil
"You've been slamming a lot of doors." - Mo
"Yeah well the doors deserve it." - Tex
"Because?" - Mo
"They block my view of you, and my number one obsession is your safety." - Tex
"He should wear more color, I think it would make him happier." - Mil
"Trace makes me happy, thanks you very much and I'm walking right in front of you, if you girls want to gossip about me, I suggest you text." - Nixon
"You monitor our phones." - Mo
*****
To start from the beginning, Tex is the boss, like the big boss, everyone's boss, so he has to choose a side; to be boss or to stay with Nixon. So will he choose blood which is what he inherited or his actual family, with Nixon, Mo, and Chase, he was raised with them. Then there was the situation with Mo, Nixon's sister being pregnant and Tex covering up for her. The plot is intense, you have to keep up to know who's betraying who, who's loyal, who's gonna have your back, and who's going to shoot you. And then there are other secrets that surface. Things are so juicy and unexpected in this book and in this whole series. And the readers are in on most of it but we get surprised too so don't worry. And finally we get to know what is going on in Tex and Mo's relationship because I was dying to know about them. They have a love that unmistakable, undeniable, and inevitable. And it was so heartbreaking to see them being apart because they were so meant to be.
This has been my favorite book so far, I can't get enough of this series, Rachel is amazing and has a brilliant mind and I'm so glad she gets to share it with us. I always find it super hard to review books that I absolutely love because I don't ever think it's enough, lol. But wow this book surely blew me away with it's originality, plot, twists and turns and surprises. One funny thing that I noticed in this book was that they don't curse very much, then I thought 'well you don't need to curse someone out when you could just shoot them in the face or kill them', so at that point I got it, lol. There isn't much need for talking in their world. I'm looking forward to the next books in this series and I really hope Rachel writes a book about one of my favorite characters that is in this book but it's top secret until you read this book, then you'll know.