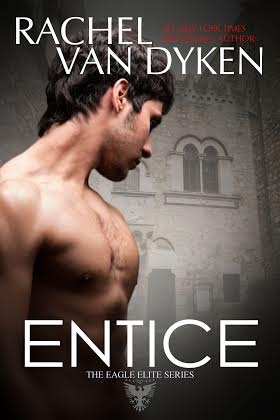 Entice by Rachel Van Dyken
Source: Received for review
"As burns this saint, so burns my soul. I enter alive, and I will have to get out dead."
Chase Winter let the love of his life slip through his fingers and into the hands of his best friend and mafia boss of the Abandanato family. Now that he's been given a second chance to right a wrong--he refuses to let his own selfishness stand in the way. The only problem? He's not fully in possession of his heart, so when Mil De Lange, the girl who's innocence he stole, and heir to the worst of the worst mafia families in the US, asks him for a favor. He actually says yes, not realizing that that one yes has the power to destroy them all.
Mil's been in love with Chase as long as she can remember, but as the years went by, the love turned to hate, and now that he's agreed to help her, she's wondering if she made a fatal error. Because Chase isn't a teenager anymore. He's a hot blooded male, bent on owning every part of her body and soul, and willing to kill anyone in his path who dares stand in the way.
It's time for secrets to finally be revealed...but make no mistake, it's going to take a lot of bloodshed for those truths to be discovered.
You've never read a New Adult Mafia story like this before...loyalties will be tested, lovers reunited, and friendships obliterated. Welcome to the Family. Blood in--No out.
I'll start off by saying that this is one of my favorite series ever, I love this series and all the books I've read by Rachel, she's awesome. I was a very big fan of Chase in the previous books especially Elect because it was partially in his POV and it just broke my heart for Trace to choose Nixon because I didn't like him too much. I was rooting for Chase knowing that she would choose Nixon anyway. So I was very conflicted when Chase was getting with Mil, I knew how much he loved Trace and it was hard for me to watch him go through it all. I'm glad that he had a history with Mil, it helped me get used to them together.
The plot of this book was crazy, murder, secrets, and betrayal, you know, all the good stuff that happens in the mafia lol.
"--is that she wants to get married." Mo grinned.

"So... grow a pair and put a ring on it."
Tex snickered behind me.
I lifted the back of my jacket to reveal both of my pistols.
The snickering stopped.
"Still the boss." I said.
"Still an ass." Mo sang.
"Or the devil," Tex added. "However you want to put it."
*****
I loved that part, it was so funny. And no we can't forget that Nixon is the boss because he is bossy and has no problem shooting anybody and I wouldn't want him any other way. I didn't like him in the beginning like I said earlier because he was really mean to Trace in some parts of book 1 & 2, some of the things he said were like 'wow, I can't believe he said that, it was so wrong & mean.'
In this book, I'm so glad that Chase has Mil because he deserves to be happy and for someone to love the shit out of him, he's such a great guy. I love how he fiercely protects Mil and wouldn't let anything happen to her. Their love was beautiful and epic, he would give his life for her and she would not have it, she would call him names for getting shot. And of course Rachel did not disappoint with a jaw dropping cliffhanger again, cause what are her mafia books without a crazy cliffhanger.
"...I'd allowed a girl to get so deep under my skin that I'd forgotten what I was. A born killer, a made man, son of a very dead mafia boss - and husband to one of the De Lange leaders..."




"...You're like my Superman..."




"...I want to be your savior..."




"...Blood in. Blood out..."
I can't get enough of this series, I love it and I can't wait for the continuation of this series, there are going to be 6 books so far and I'm so excited for them. I also read an eARC of Elicit which is Tex's story and I loved it, it was so good. I was dying to know what was going on with Tex and Mo cause we knew it was something, we just didn't know what. The more I read the more I love the series and can't wait for more.