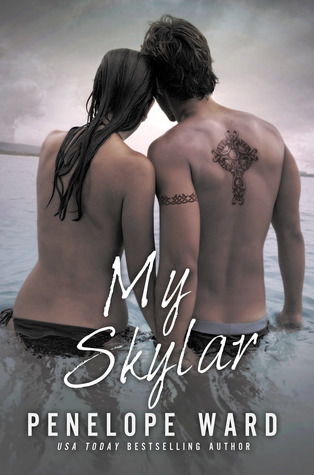 My Skylar By Penelope Ward
Genre: Contemporary Romance 18+
From the author of the Amazon #1 bestselling romance, Jake Undone, comes a friends-to-lovers story of longing, passion, betrayal and redemption……with a twist that will rip your heart out.
Skylar was my best friend, but I secretly pined for her. One thing after another kept us apart, and I've spent the last decade in fear of losing her forever.
First, it was the cancer, but she survived only to face the unthinkable at my hands. Because of me, she left town. For years, I thought I'd never see her again.
But now she's back…and living with him.
I don't deserve her after everything I've put her through, but I can't live without her. This is my last chance, because she's about to make the biggest mistake of her life. I can see it her eyes: she doesn't love him. She still loves me...which is why I have to stop her before it's too late.
My Skylar is a STANDALONE novel and a companion to Jake Undone.
She had made me forget about my worries, made me feel alive for just a few moments, and then she was gone.
Life is full of surprises, our story was far from over.
"What are we anyway, Mitch? You're not my boyfriend. I call you my friend, but it feels like so much more. What can I possibly be to you now?"
- Skylar
"Everything. You're... everything to me." - Mitch
*****
"He can't take you away from me because our story's not finished yet."

"I'd take half of you over anything else that's whole in the world."
I fell in love with this story, the characters and Penelope's style of writing. I could not get enough. I've read the previous books and Jake was an incredible character with a secret that made him stand out more that your average hot guy, damaged character. So just from this book's blurb I knew I was in for an emotional ride that I would not soon forget. This book made me laugh, cry, rock myself in corner, it just felt so real. The characters jumped out of the pages, that is Penelope's writing at it's full affect. She made me love the characters, hate them at times and one in particular I wanted to beat the shit out of, but don't worry you'll want to do that too when you read this.
This story shows you that the most beautiful thing can come out of tragedy. If you can't get through the dark, you can't reach the light. It was heartbreaking and beautiful.
'The truth was I'd been in love with her for almost the entire time I'd known her.'
"I feel like I won't be able to breathe until you come home." - Mitch
Penelope's characters are definitely one of a kind. Skylar went through so much in her life, her future was altered by different circumstances and I was pissed about it the whole book. I really felt bad for her because of everything that happened to her. Skylar could sense what other people were feeling and with certain people she felt a strong connection, which she felt with Mitch. She could tell when he was lying or feeling sad and when he would shut her out she knew how to get him to open up. People are hard to figure out and I was glad that they didn't jump around too much with their feelings.
Mitch was in a category all on his own, he was loving, compassionate, supportive. The perfect guy on so many levels.
Let me just say that the weeping orgasm, wow just wow. Talk about a flood of emotions, understandably. Mitch and Skylar wanted to be together for so long that they couldn't help all the emotions that were flooding over them. It because a joke later but it was the cutest thing.
My Mitch
**The boy. The teenager. The man. His eyes were the one constant and the window into the soul of all three. I'd loved them all equally.**
The only thing that bothered me was that Mitch went off to college and left Skylar behind. After what they had been through together, this was an obstacle that they didn't need. Skylar had just came home from her dad's house and recovering from a traumatic experience to say the least and Mitch leaves for school, that's crazy and I couldn't believe it.
I loved Davey, omg he was hilarious. We all need a friend like him around. He said rude sarcastic comments at the worse times, gotta love him. He was also the friend that kept you grounded when you were falling, supported you when you were beaten down, and made you laugh when you couldn't stand.
I also loved that Nina and Jake were in this book. I'm so glad they weren't forgotten because I love Jake, he was so funny always said they wrong things at the right time, (yes you read it right). That was his charm, lol.
The plot was full of twists and turns, betrayals, love, and beauty. This book broke my heart, but it back together, to have it break over and over again. I wanted Skylar and Mitch to be together so bad, I wish I could have seen them together more in the book. They were so cute together.