Slade is currently $0.99 on Amazon go get it! You need this book in your life!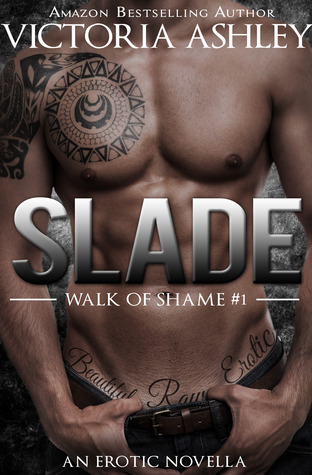 Series: Walk Of Shame # 1
Source: Bought Kindle Edition
Genre: Erotic Contemporary Romance 18+
My name is Slade Merrick and I'm a f*cking sex addict . . .
I've been told it's a problem. But I see it as a passion; something that I'm good at. And who the f*ck stops something that they're good at?
They want me to seek help; get my c*ck in check. Don't judge my lifestyle. You're no better than me. Just admit it, you like to f*ck too. Sex is what I do best; my own personal high, so I embrace it instead of being ashamed.
When I'm not f*cking, I'm slinging drinks at Walk Of Shame or stripping my way into your bed; another thing I'm good at. Every woman's darkest fantasy brought to life.
So, am I stopping? F*ck no. Sex is beautiful, raw and erotic and I get off knowing I can have it with anyone I want . . . with the exception of her.
She walks into the club swaying those hips, instantly drawing my c*ck to attention. She's pure perfection. That is, until she opens that mouth, drawing me in and for the first time in forever I want something more than sex. I want her and she hates it.
Things get dirty. Dirty is what I like; it's how I live. But . . . she's playing a game she can never win.
***Author's note*** Due to strong language and a very high amount of dirty, sexual content, this book is not intended for readers under the age of 18. This is #1 in the Walk Of Shame series of novellas that will all be STANDALONE reads. If you're not into, cocky bad boys with filthy mouths and even filthier sex, then this series is not for you. If you are . . . then, come meet the dirty boys of Walk Of Shame.
Victoria Ashley grew up in Rockford, IL and has had a passion for reading for as long as she can remember. After finding a reading app where it allowed readers to upload their own stories, she gave it a shot and writing became her passion.
She lives for a good romance book with tattooed bad boys that are just highly misunderstood and is not afraid to be caught crying during a good read. When she's not reading or writing about bad boys, you can find her watching her favorite shows such as Sons Of Anarchy, Dexter and True Blood.
She is the author of Wake Up Call and This Regret and is currently working on more works for 2014.
Her eyes stray from the table I just set her glass on and land on my stomach. Then my chest. Then, slowly up my face. She swallows and a look of lust flashes in her eyes. She wants me and I haven't even done anything yet.
Shit, I've gotta have her. I won't stop until I do.
Oh hell. He stares at me; burning his eyes into my body, like he's about to fucking rip my clothes off and pound me against a wall somewhere. It's so distracting.
He's a jerk; nothing but trouble. The fucking devil in disguise, looking to taint my soul and consume my every fucking thought.
I actually wanted to love and be loved. I had it before but lost it and myself, but she makes me long to be that person again.
She made me realize that sometimes you have to peel back the layers to discover who someone really is. Otherwise, you might miss a remarkable person.
I can't even contain myself right now from all the feels, mostly excitement cause that Slade... OMFG to the max. Damn that man is hot! And if you can't get enough of his body, wait until he opens his mouth, he'll have you begging for it and get you there without even touching you. He's that good! He is the ultimate playboy, in the best way.
Idk how I could even make sense now, I'm a little flustered. I finished it last night and today I'm still freaking out. This man is sex-on-a-stick and so delicious you want to lick him up... everywhere. And that's just his body, the things he can do with the English language is beyond erotic, beyond anything I could even explain. The man is unbelievably hot!
Victoria Ashley just got on my automatic reading list, if the woman publishes a book I'm reading it, no questions asked.
This book is the sexiest, most erotic book I've read.
Okay, onto the story. Slade is an erotic dancer at a club where he meets Aspen. He's teasing her because he wants in her pants, then he finds out that she is the new temporary roommate, even more of a challenge for him. He has to have her, but he has rules; you only get to ride the Slade train once and if you agree, you are in for the best night of your life, guaranteed. Oh he'll show you a good time alright, for a price, it's only once and What. A. Shame. Cause after being with Slade you're ruined for every other guy, and that's exactly how he likes it; being every woman's fantasy.
Aspen is staying with her friend Cale for a week, she needs to get away from her life and take a breather. When she comes to Cale's place of work which is a club/male strip club she sees Slade paying extra attention to her. It makes her uncomfortable, she's disgusted with him dancing half naked with women drooling over him. She tried do hard to keep her legs closed but Slade is too good at getting women to bed him, he knows their weaknesses and can talk so dirty it turns you on. But he's a male slut and she's not interested in being one of his conquests. But when she can't fight him or her treacherous body any longer, she gives in and she hates it. He seems to know what she needs and he wants to give it to her, but when his jealousy gets in the way, he finds that he might want to break his rules for her and be with her again.
My favorite parts are when Aspen tries to fight against her lust for for Slade. He wants her and will stop at nothing to get her. He teases her so much with words and with actions. He gave her a striptease in front of the whole club that was unmistakably the hottest thing I've ever read. His view was that she needed to see hoe excited she made him feel, but it only embarrassed her to no end. Slade likes that she won't give in, he likes a challenge, he's convinced that he's going to get her and can't wait. He's the talk of the town, he's been with many women and they don't skimp on the details of how good he is.
When these two find out each others secrets, it is a ground breaking explosion. It is an earth shattering experience for both of them to learn their secrets. Their stories are heartbreaking and difficult, Slade's more so but Aspen's story is also sad. They have a lot to work through as they learn their feelings for each other and as they develop. Their relationship(if you can call it that) was rough, impulsive, explosive, and very satisfying. As we learn their secrets we see them as differently as they see each other, their vulnerable sides are exposed and so are their hearts. But with their heart on their sleeves, someone is bound to get hurt, but who would it be? And can they go back to living their lives as if they didn't know each other or will their lives never be the same?
The other characters were really great as well, no annoying best friends in this book. Cale was Slade's roommate and Aspen's sister's best friend from childhood. Cale was really nice to Aspen in letting her stay with him for a week to get her head straight. He was an equally good friend to Slade, they worked together and lived together and he was there when Slade needed someone. Cale was supportive and protective of his friends, not mention hot. So is Hemy, who is also a sex machine, haha. Aspen has the hots for Hemy as well but Slade won't have that, he wants her all to himself even before he was with her. I'm so glad that Hemy and Cale are getting their own books, I can't wait to read them. There's a sneak peak at Hemy's story and it sounds so good.
I could not get enough of this book! The feels were overwhelming and my pulse was on overdrive. What an exciting read, I didn't want it to end, this did not feel like a novella at all. So much happened, yet it leaves you wanting more, much more. I haven't read anything like it, simply spectacular!