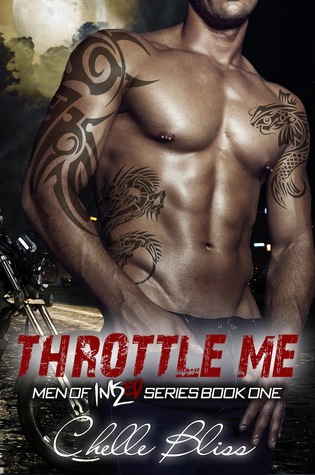 Throttle Me by Chelle Bliss
Published: March 31, 2014
Suzy's a control freak and has her life mapped out - work hard, find a man with a stable job, and live happily ever after. She's content with the status quo, but her plan comes to a screeching halt when he enters her life and turns it upside down.
City gave up on love when his heart was crushed in college, preferring to be the typical bachelor. He spends his nights hopping from one bed to another and his days working at his family tattoo shop, Inked. A chance encounter on a dark road makes him question what he had sworn off forever – a relationship.
A night of passion and lust causes them to question everything. Is City the knight in shining armor to the damsel in distress? Can their relationship survive when a fantasy falls apart and a secret comes out that changes everything?
"As for being

owned

, I plan to

own

every inch of your body. You are

mine

,

Sugar

, don't

forget

that shit. I'm going to fucking ruin

you

."
I wanted to corrupt this girl in the worse possible way.
"You." He tapped my nose and I rolled my eyes."Freaking great.""Yep, you're cute. Innocent, but fucking dying to be bad."
Why did this sexy ass man that lived life totally opposite of me, want me? We didn't fit - we didn't make sense on paper, but that didn't stop my body from reacting to him, no matter how hard my mind said to ignore his charms.
_______________
When I saw the cover of this book, I wanted it so I got it. You know me, the cover does it for me everytime. If there's a hot guy or a girl with a pretty dress, or a guy and girl doing something naughty on the cover, I will buy it. It's my thing.
Suzy's car broke down and City found her to give her a ride. They ended up in a bad with bikers and people that didn't look very safe for her to be around, so City claimed her as his in front of his friends in order to keep her safe and because he really did want her all to himself. So it would take hours for a tow to come pick up her car so when it was time for City to take her home, instead she said to go to his place. And that night she had the best sexual experience of her life. She was a good girl but she had bad girl fantasies that City could make come true.
This book was hot! City, omg that man was naughty, he knew what he wanted and went for it. He was a hot, alpha, tattooed, pierced, and was pure muscle. I could not get enough of him because he also had a softer side the he didn't show much of.
What really made the book for me were the explicit scenes. Although that is not the reason I read books, I like a little somethin, somethin here and there. But this book had super hot scenes, a hot character and he was willing to please. Jesus, the perfect man. I always enjoy that his family was included in this book, not only to set up the other books in the series but his relationship with his mom, I just love that in a book.
I loved the ending, a HEA always makes my day and I'm sure we'll see them in the other books in the series.