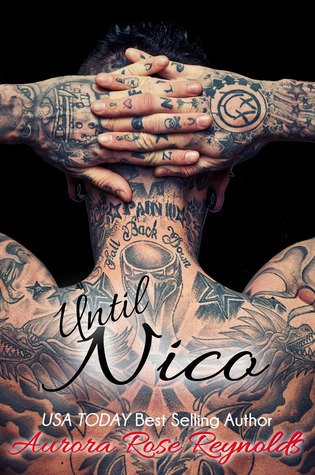 Until Nico By Aurora Rose Reynolds
Genre: NA 18+
Source: Bought
Sophie Grates has never had it easy, but she's finding her way through life one step and one day at a time. That is, Until Nico comes in and flips her world upside-down. He forces her to see you cannot live life from the outside looking in, and sometimes you have to step out onto the ledge so you can really enjoy the view.
Nico Mayson knew the moment he saw Sophie Grates that she was the one. His whole life, he has been judged by what's on the outside, so finding a beautiful woman who sees the real him only makes his feelings that much stronger.
Nico knows the kind of man he is, and the things he is capable of, and he will do everything in his power to help Sophie fight her demons so they can have their happily ever after. Everything in life worth having is worth fighting for.
I read an excerpt of Nico and I immediately bought the book! It was of Nico and Sophie's first meeting where she looses her phone, he finds it and they meet so that he could return it. He instantly knows he wants her because he kisses her. And wow that man left an impression on me, so I had to know about him. This is the first book I read in this series, I have 2 others but this one caught my eye first, so I had no idea what the 'boom' was until in the end they explained it. It's when you see the woman you're going to marry for the first time, you just know she's meant to be yours and she's it for you, your boom, cause it just hits you. I love that aspect of story.
I liked that Nico had to work for it, to get Sophie to date him. She was new to the state and she didn't want to date anyone. Nico helped her break out of her shell, helped her trust him. He was persistent in pursuing her, he didn't give up because he knew she was it for him. I loved the alpha in him. I also loved the family dynamic in this book, which I'll get to see in the other books as well.
'I'm in love with an amazing man who looks at me like I'm his reason for breathing when, in reality, he's mine.'
"You're mine, Sophie. I don't give a fuck what you think, or what the excuse it you try to give me, but you are mine."
"I knew the minute I saw her that she was it. How I knew? I don't know, but it was like my soul lit up."


This book stands out for me because Nico is a special character, the way he acts and feels towards Sophie. He's tattooed almost head to toe but he has a sweet side reserved for his family, I thought it was cute and endearing.
There were many hot and steamy scenes. So when Nico went away on a job, he'd be away for awhile and Sophie would welcome him with open arms and then it got hot and heavy. There were definitely some really great scenes.
The only thing that I noticed that kind of odd to me was that Nico wanted to start trying to have a baby pretty much right away. I just thought that they should have had a few years to each other but everyone's different. I was surprised that Sophie just went along with it. I guess for Nico he thought that when you have the right girl, why wait? Other than that I'm excited to read the other books, I got a glimpse of some of the other characters. I like when the couples all come together and aren't forgotten in a series.