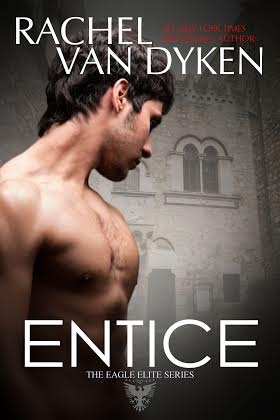 Entice By Rachel Van Dyken
From #1 New York Times Bestselling author Rachel Van Dyken comes the third book in the bestselling Eagle Elite Series...
"As burns this saint, so burns my soul. I enter alive, and I will have to get out dead."
Chase Winter let the love of his life slip through his fingers and into the hands of his best friend and mafia boss of the Abandanato family. Now that he's been given a second chance to right a wrong--he refuses to let his own selfishness stand in the way. The only problem? He's not fully in possession of his heart, so when Mil De Lange, the girl who's innocence he stole, and heir to the worst of the worst mafia families in the US, asks him for a favor. He actually says yes, not realizing that that one yes has the power to destroy them all.
Mil's been in love with Chase as long as she can remember, but as the years went by, the love turned to hate, and now that he's agreed to help her, she's wondering if she made a fatal error. Because Chase isn't a teenager anymore. He's a hot blooded male, bent on owning every part of her body and soul, and willing to kill anyone in his path who dares stand in the way.
It's time for secrets to finally be revealed...but make no mistake, it's going to take a lot of bloodshed for those truths to be discovered.
You've never read a New Adult Mafia story like this before...loyalties will be tested, lovers reunited, and friendships obliterated. Welcome to the Family. Blood in--No out.
Are you in?
Rachel Van Dyken on Writing Eagle Elite
This series started off as most things do...with a hot guy...His deep set dimples and ridiculously swoon worthy grin had me saying yes before I even asked what the heck he was talking about.
Write a mafia book loosely based on the story of the small town guy who lives a few miles way from us. Apparently there was an ex mafia made man living thirty minutes away from us. He'd been in hiding for over twenty years and one year just disappeared. He was a farmer, but terrible at it, gaining help from the community around him, he eventually started putting down roots. He was known and loved by everyone. Until one day he didn't show up for his morning cup of coffee at the local eatery.
Police searched his house.
And found thousands of dollars worth of semi automatic weapons, passports, etc. Crazy right? Almost too crazy to be true?
They always say inspiration comes from the craziest places. I began to wonder, what if the life you thought was your life, was actually a secret identity? What if your grandfather, the old man who refused to even step on a spider was actually from one of the most powerful mafia families in the US and what if, by hiding you, he's keeping you from your parents supposed killers and the one family who's son not only has the power to destroy everything you've built--but the power to take your heart right along with the destruction?
So, the Eagle Elite series was born. I started off not really knowing if I was going to make it into a series or if I'd stop at one book. The minute I got to the end of the first book I knew it was going to be a longer journey than I anticipated. I never planned on making it a love triangle. I had no idea people would latch onto it the way they have.
Something I've learned about myself? There is NOTHING hotter than a guy who knows how to use his body as a weapon...or a guy willing to die to protect you, even if that means he dies in the process. I'm so addicted to these characters that I've extended the series beyond four books into seven.
I chose the setting of a school to give the book an eerie feel, and the names I picked? Well I wanted powerful first names but last names are actually chosen carefully to depict the meanings and crests of each family. In Entice you actually find out what each family represents and why.
As far as research goes, I'm pretty sure that the US government keeps tabs on my Google search...I wouldn't be surprised at all if I flagged a few things when I started googling "Ways to torture people with cement" I mean come on, thats not normal. It probably doesn't help that right afterwards I was looking up different ways for a car bomb to trigger or how to build an AR-16. But hey! What do you expect when you're writing about the mafia? My reference book is so big that its around three pounds extra to carry with me on flights.
Everything has been researched like crazy....and I love every minute of it!
I hope everyone enjoys the twists and turns Entice brings...remember, blood in, no out. Welcome to the family! Muah!
Rachel Van Dyken is the New York Times, Wall Street Journal, and USA Today Bestselling author of regency and contemporary romances. When she's not writing you can find her drinking coffee at Starbucks and plotting her next book while watching The Bachelor.
She keeps her home in Idaho with her Husband and their snoring Boxer, Sir Winston Churchill. She loves to hear from readers! You can follow her writing journey at her website.
EMAIL ME: rachelvandykenauthor@gmail.com
"I don't want a moment... I want a lifetime." -Chase
*****
She'd never come out and say it - but when you're in crazy, obsessive, I-will-die-for-you love, you know these things.
I noticed everything. -Nixon about Trace
*****
Nixon
"So ... grow a pair and put a ring on it." -Mo
Tex snickered behind me.
I lifted the back of my jacket to reveal both of my pistols.
The snickering stopped.
"Still the boss." I said.
"Still an ass." Mo sang.
"Or the devil," Tex added. "However you want to put it."
*****
"I just like pissing you off - seems my entire body responds to your anger in an unusual way - I'm not complaining, and you weren't either a few nights ago." -Nixon
"I complained," she snapped. -Trace
"Because I made you go to sleep. It was four a.m., Trace, people have to sleep." -Nixon
"Admit it. You love fighting with me almost as much as you love what comes after." -Nixon
*****
Because I was already falling for pieces of her. Correction, I was becoming borderline obsessed with those sharp little pieces. -Chase
*****
"You have to fight, Chase Winter. I refuse to live without you."-Mil
*****
Because every damn road had eventually led me to her, my wife. Going back? Hell no. Not a chance. Because life is about one thing. Love. And Mil? She was mine. -Chase
*****
"Things to do, people to see, lives to ruin." -Chase
"Wow, you should be a motivational speaker". -Mil
*****
"You're a romantic sex god with mafia mojo." -Trace
*****
I love this series! I'm also a huge RVD fan, I've read two other series and loved them both. So yeah, huge fan. Anyway... Entice, so many secrets, lies, betrayals, love, murder, hot guys with guns, badassery, you know the works for an Eagle Elite book. And completely and utterly awesomeness! I love Rachel's characters, quirky, snippy, smart asses, sarcastic, hilarious, she is unique in that aspect. Her characters always stand out to me. I love how you get several POVs in her books, especially since this is the third book in the series, you already know all the characters so you want to keep up with what's going on with them. One of the things that I enjoy the most is knowing the characters past, how they became how they are now, their experiences good or bad usually bad but that's what shapes them. I feel wrapped up in this world, although it's very scary, dangerous, deadly, and so very intriguing.
I always get swept up in Rachel's stories, they're so enthralling, I feel like I'm literally in the book right there with the characters. Who doesn't want to be part of a badass mafia family? Okay not everyone, but it's so cool to read about. They are so loyal, supportive, mocking, protective to each other, I loved the family dynamic. They all grew up together (except for Trace), they each have a unique story but they all come together perfectly.
This book never stopped shocking me, twists and turns everywhere. Mil's story was so sad and I really felt for her. She was shipped away from her parents to go to school and she had a dad that was one of the worse characters, as in he was a bad person, did bad things and could not he stopped because he was a boss, thus, he did whatever he wanted... which was bad. So Mil becoming a new boss of her family now has to build her family pretty much from the ground up because she has nothing. This is where Chase comes in, they have a history, like some serious history. He didn't know it but he saved her when they were just teens and she's been in love with him ever since, except it turned to hate.
Chase didn't think that marrying Mil was anything but a favor to her, she turned out to be the one he never knew he needed. And that was hard for me to read, I really felt for him in Elect (book 2). He was in love with Trace, thus, him, Trace, and Nixon were in a love triangle which I love except when it comes time to chose. I already know who Trace was going to choose but I didn't know who I would choose because book 2 was also in Chase's POV and I get attached to characters and it was just heart wrenching to see what Chase went through. Trace was the love of his life, point blank. So it was hard for me to read about him falling for Mil. So when Chase told Trace that she taught him what love was and that prepared him for Mil, I lost it and cried. So this series, I hold it dear to my heart, needless to say that it's because of it's awesomeness but it's also because of it's heart. The heart to heart moments that we romantics live for. Not to mention Chase is badass, as in he seriously has skills in the assassins department.
Nixon being his usual Nixon self was not nice to Mil for some part of this book but he was making a point. And how he makes his points, he's not a nice guy, you will hate him at some point because he's just so damn mean. I didn't in this book but I did in Elite book 1, he was so mean to Trace when they met. But being with her changed him for the good, he still threatens to kill people, put a gun to their face, and actually shoot some of them but that's his good side. Needless to day, you don't want to see his bad side, as in you won't cause you'd be dead. So don't look at him, pretend he's not there and see how that goes. So yeah, Nixon because a favorite but not in the beginning, he had to make tough decisions for Trace and in this book, he gets to deal with the consequences.
The previous book was very emotional for all the characters, they went through a lot and this book is no different. Loyalties were tested, hearts were broken, and the next book is promised to be exactly that. Tex's story that we got a little glimpse of and it will not disappoint in true mafia style. Which is one of my favorite things about this series is the mafia part because I'm drawn to it and I want to know about their world. Not to mention it has hot alpha guys that can protect you with their lives and will literally take a bullet for you, no joke.
Being part of this tour was so exciting for me, I want to thank Rachel for her awesome guest post. This book is a fantastic edition to the series and in true Rachel fashion, she did not disappoint. I know I probably didn't do it justice, her books are seriously so epic I can't even explain. Go pick a series by her and tell me it's not awesome, well no don't cause they are. But she's great, so are her books and she's so cool to talk to.