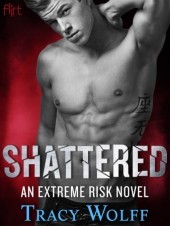 Expected Publication: May 20,2014
Source: eArc from publisher via Netgalley
The Extreme Risk series—Tracy Wolff's edgy, emotional take on the New Adult genre—continues with the story of a lost soul and the fearless beauty who inspires him to take a flying leap back into life.
Ash Lewis has poured every last ounce of his blood, sweat, and tears into reaching the very top of the professional snowboarding world—until the unthinkable happens. After the biggest competition win of his career, Ash's mother and father are killed in a tragic accident. Unable to handle the idea of going back out on the snow to pursue the dream his parents shared with him, Ash feels that he has no choice but to walk away from snowboarding forever. Then he meets Tansy Hampton.
Wild, fun, and impulsive, Tansy has a different look and a new passion every week. As a cancer survivor who spent the past several years waiting to die, Tansy has a fresh perspective on life—even if she doesn't have a clue about what she actually wants to do with it. But she's determined to find out, and that means making the most of her time while she still can.
From the very beginning, their chemistry is intense. But while Ash can't stop chasing the ghosts of what can never be, Tansy stays firmly focused on the possibilities the world holds for her—and for them. She's already picked up the pieces of one shattered life. Now she's determined to help Ash do the same.
Tracy Wolff collects books, English degrees and lipsticks and has been known to forget where—and sometimes who—she is when immersed in a great novel. At six she wrote her first short story—something with a rainbow and a prince—and at seven she forayed into the wonderful world of girls lit with her first Judy Blume novel. By ten she'd read everything in the young adult and classics sections of her local bookstore, so in desperation her mom started her on romance novels. And from the first page of the first book, Tracy knew she'd found her life-long love. Now an English professor at her local community college, she writes romances that run the gamut from contemporary to paranormal to erotic suspense.
And for all of those who want the unedited version:
Tracy Wolff lives with four men, teaches writing to local college students and spends as much time as she can manage immersed in worlds of her own creation. Married to the alpha hero of her dreams for twelve years, she is the mother of three young sons who spend most of their time trying to make her as crazy as possible.
"Yes," he answers instantly.
"You don't even know what I'm going to ask." -Tansy
He laughs. "Doesn't matter. You can do whatever you want to me."
"Uh, oh, This is going to be a problem." -Tansy
"You're falling in love with me. I can see it all over your face."
"Don't worry about it, I won't hold it against you."
"You won't huh? That's awfully nice of you."
"What can I say? I'm a nice person."
"I love you and I don't want to live without you, even if I can't have you for long, I want you, Tansy. I want you for as long as I can have you."
"Whatever time you have, I want. The good, the bad. I want it all, baby. I want it all." -Ash
Ash had a tragedy in his family that left him parent less and his brother paralyzed. He has a lot to deal with and sort out while his feelings towards the new events as well as take care of his younger brother. I really liked Ash's character, I thought he was dedicated to his brother. He was very lost, which is understandable in this situation. I really felt for him, he felt guilty because his parents were on their way to see him when the accident happened, so he blames himself. I feel like he really needed Tansy, to show him that he was capable of loving someone else other than his brother. Ash was so closed off, he didn't want a relationship because he thought it would take away time from being with his brother and that was his main focus, but Tansy was so good with Logan. I think they were the perfect little family, the three of them.
Tansy was fearless. She survived cancer and got a whole new outlook of life. She wants to live it to the fullest, not in a crazy way, or unhealthy but she doesn't take life for granted. She knows you can be there one minute and the next you're gone. She colored her hair all the time and loved her individuality. She was definitely unique in that aspect. Tansy was such a fun character.
This series has a realistic feel to it, it felt like these situations could happen which makes it more sad. The writing was flawless, the plot, and the characters. I loved the family dynamic that this series has, this group really cared about each other. I loved this story, it kept my attention the whole time, and I loved knowing more about Ash, I'm so glad he got his own book. I hope Luc and Cam, I know their stories are going to be just as awesome, I want to know what's going on there. There's little info about them in the two books so far and it makes that much more curious.
The cover, something worth talking about, always. I love all of Tracy's covers, they all have hot guys in the front and this one is no exception. The tattoos on the side of his ribs are a really nice touch and it has a special meaning to Ash. I loved Ash and thank God he was less tortured than Z because Z was just too much sometimes. I'm glad these guys figured things out and found women that love them unconditionally.